One Ciudad de México
Alameda
One Ciudad de México Alameda
If you're visiting Mexico City for a business trip or just to enjoy the city's tourist attractions, choose to stay at the One Alameda. This affordable hotel is strategically located and offers the security and comfort you need to rest, recharge and stay productive. The hotel offers a privileged location on Juarez Avenue, one of the city's main thoroughfares, and offers easy access to the region's key points of interest. It is 10 minutes from the Palace of Fine Arts, 10 minutes from the offices of the Secretary of Exterior Relations, and 20 minutes from the Zocalo town square and Metropolitan Cathedral.

One Alameda proves that traveling to Mexico City doesn't have to be difficult or expensive. Guests at the One enjoy secure surroundings, comfortable facilities and modern style, plus efficient and helpful service to help make your visit even easier.

100% smoke free hotel.

We remind you that the check-in time is from 3:00 PM. Check-out is at 12:00 PM. We suggest you use our express check-out service.
Services
The hotel offers 117 guest rooms, a restaurant serving complimentary hot breakfast and open from 6am to 10pm during the week and from 7am to 11pm on the weekend. It's a 100% smoke free hotel. Hotel services include:


Business center
Guests access with guide dogs
100% smoke free hotel
Indoor parking with cost
Free Wi-Fi access
Breakfast Only
Handicapped access
Pets are not allowed
Laundry service
Qualified:
x
One Ciudad De Mexico Alameda
Location #31 of 304 hotels in Mexico City
GreenLeader Silver
Certificate of Excellence 2016
Summary of qualifications
Best comments
"Great location"
You will be very close to Historical Downtown, Alameda, Palacio de Bellas Artes and Zocalo. Also good access to Ave. Reforma. Breakfast is basic but fine. You´ll find a Taxi service near the hotel, but not part of their service. The hotel is very basic with small rooms, for a long stay you will fill "enclosed".
"Great location. Very convenient hotel"
Stayed in the hotel a few weeks ago. I'm going to be honest about this hotel rooms: they are very tiny… BUT I really love the way the rooms were planned in order to save space, they actually feel cozy. The most important thing for me while staying at a hotel is the cleanliness, having a clean neat bed and bathroom. The hotel was IMPECCABLE! Bed was clean and comfortable and bathroom was spotless, as if it was recently renovated. Continental breakfast is included with the fare you pay for your room. I only tried it once as I am vegetarian and there's never a whole bunch of options for me specially on a free continental breakfast, but for non-vegetarians you should have no problem. Besides I wanted to try food on different places every morning. The morning I had breakfast there I had fresh fruit, tea, and some very good sweet bread. They also had (but I didn't try) coffee, some style of eggs with sausages, refried beans and some spicy salsa. I absolutely recommend this hotel because it's conveniently located on a mayor street, close to main attractions, some of them just walking distance, some others just an Uber ride away which would be like ridiculously cheap (i.e., US$2.00).
"Great little hotel close to Zocalo Sq"
If you are looking for 5 star hotel accommodations this may not be for you. Now we have that out of the way lets talk about all that is great with this little gem. For budget travelers this is a great place! While the rooms are not huge, they are clean, beds comfortable, and have both wifi and tv. Breakfast is typical Mexican fare and was very good. Though the place got really busy while I was there, there was never a food shortage... everyone got enough breakfast and good selection of what they wanted hot or cold. The staff is friendly and works hard to ensure you have what you need. They have someone on the desk 24/7 and also have a smallish convenience area for drinks and snacks. If you need more than that there is a convenience store right next door. The hotel is across from an amazing park, and if you are there on a Saturday night you have to go check out the dancing that takes place there. Zocalo square is a short safe walk from the hotel, as are many of the key historical locations in the area. Turibus stops about two blocks down from the hotel... a short walk after a long day touring the city and sites. I highly recommend this hotel for anyone looking for a slightly lower cost, but great little place to stay!
"Great place, location and breakfast"
This hotel has a great location, it's new and have a good hot breakfast included. My air conditioning was not the greatest, but it worked reasonably. It didn't cooled down a lot, although setting down to the minumum. You have to validate the room key every day, but they do that quickly. The bed is comfaortable and the shower not so strong, but good enough. Everything clean and neat for a nice stay.
"The staff and location "
The young ladies at the front desk are amazing, Ezekiel helpful and knowledgeable. This place is extremely well located and it's clean. Good breakfast included. Very close to Bellas Artes and really safe.
Top-rated Attractions Nearby
National Museum of Anthropology (Museo Nacional de Antropologia)
Palacio de Bellas Artes
Chapultepec Castle
Coyoacan
Eat Mexico Culinary Tours
Basilica de Santa Maria de Guadalupe
Journeys Beyond the Surface Popular Culture Tours
Murales de Diego Rivera en la Secretaria de Educacion Publica
Paseo de la Reforma
Frida Kahlo Museum
Photos hotel and surroundings (104)
Rooms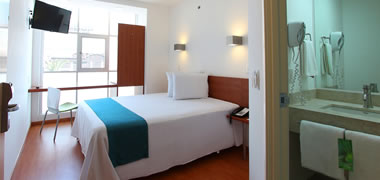 Accessible Room
This room is specially equipped with wheelchair access and hand rails throughout the restroom to help guests feel comfortable. It offers the same amenities and security as other guest rooms, with a Queen bed, restroom with shower and tub, cable TV, work desk, climate control, wireless Internet access and telephone with voicemail. A room with two single beds can be connected through an interior door.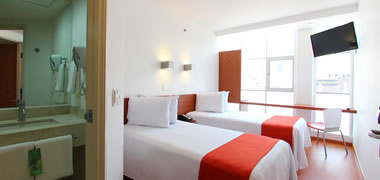 Superior Room, 2 Twin
These modern and simple rooms offer the comfort and security you need during your stay. They offer a restful space with two single beds, closet, cable TV, work desk, climate control, wireless Internet access and telephone with voicemail.